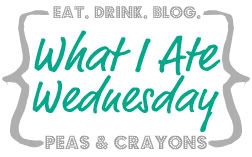 Yay, What I ate Wednesday is back! I was so inspired by all of the posts last week. I had all sorts of grand plans to make new foods from them, but the week just got away from me and I ended up not really going to the store or trying anything new. Next week I WILL be better. :-D
Here it is: What I ate on Tuesday, for What I ate Wednesday!
"Breakfast"
"Snack"
"Lunch"
Lemon barley stew
the same as last time, but with an added zucchini.
Another snack of a peanut butter pretzel cliff bar. Mmmmmm.
"Dinner"
I lost another bet, but the request this time was one I can *totally* get on board with. Veggie meat tacos! I usually have black bean tacos, but when a veggie meal is requested of course I'm going to indulge.
My taco had some spiced veggie meat, spinach and lazy girl guac.
Lazy girl Guacamole
Ingredients
1 or 2 avocados, ripe. 1 avocado gives a really spicy zesty flavor, while using two avocados makes a creamier richer sauce
Juice of one lime
1 serrano pepper (or jalapeno), seeded
1 shallot
Salt and pepper to taste.
Method
Put the lime juice, pepper and shallot in the bowl of your food processor. Blend! Then, add the avocado. Blend for a couple pulses. Spoon into a bowl and add salt and pepper to taste.
I used to chop all my veggies for my guac by hand. This is MUCH easier. :-). I also no longer add tomatoes to my guacamole because they always seem to make it too watery. I chop up some tomatoes and add them on top.
Jogging!
Goals from last week: "Goals for next week are 10mi total, a speedy workout of 8:30/mi and a long work out of over 3 mi."
This week:
6/30- 2.65 @ 9:51/mi
7/1- 1.35 @ 9:05/mi. Not as speedy as I wanted. Note to self--no beers before running.
7/2- 4.3 @10:43/mi. I walked for 1 min every mile on this long run to try to save my knees.
7/5- 2.65@10:00/mi. Just feeling crappy :-(
Goals for next week: Run at least four days for a total of at least 10 mi. Do the same 4.3 mi loop without walking. I am pretty sure my knees can handle it. Speedy run of under 8:30.
Eating goals: Less processed food, more variety! I want to make at least 3 new meals inspired by YOUR WAIW posts. So I'm going to go start looking through them now!! <3