I'm going to keep this short and sweet because, honestly, I should really be working on my lecture for tomorrow night. BUT I miss y'all and I ate some fun things today. :-)
Teaching a class and having a full time job at the same time is kinda stressful. Whodda thunk it. Although, the location of my class is incredibly beautiful.
Also, a request:
A wonderful, amazing friend of mine has some new diet restrictions because of health issues. If anyone has any lower carb, low sodium recipes (especially fast ones), or meal ideas, please comment or send me an email. Y'all are the best. <3
As always, thanks to the beautiful and talented
Jenn
for hosting this event. <3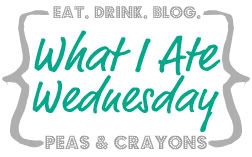 Breakfast!
0% greek yogurt, crunchy peanut buttah, and homemade Rum Nectarine Preserves. They were PERFECT with the greek yogurt. Not too sweet like I feared at first.
*Cough* I have no idea what you are talking about.
Pre-Dinner "Snack". AWESOME wine in a bag. Such a brilliant idea! It's 2 bottles worth of wine in a bag. The genius part is that it stays fresh for up to a MONTH after you open it!!! omgash. And it's super light for taking camping and hiking. Find it here @ Clif Family Vineyards. I'm not affiliated (just a wine club member!) but seriously, this is the most amazing wine revelation. $17 for 2 bottles worth of really delicious wine that stays fresh?? Yes please!
Dinner was the lovely Jenn's Quinoa fried "rice". With broccoli, spicy veggie sausage and an egg. I also used some of my new Trader Joes Sweet chili sauce. The sauce is cheap and doesn't contain a lot of weird ingredients. Yum.
Gratuitous Maeby pics:
Mastering the CAT tree.
Pretending that I don't want mom's dinner but really I keep inching closer and closer.
<3 <3
Please send me any low sodium/lower carb recipes/ideas you have! Thanks y'all.