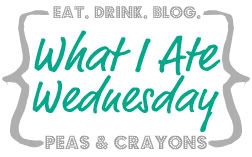 I am finally getting back into the WIAW swing of things after a couple of crazy weeks. Unfortunately life is still super stressful so I haven't been cooking that much (AKA boring eats!). I am really struggling with feeling creative and motivated in the kitchen which tends to lead to me eating much worse :-(.
However, on the bright side, I am spending lots of time working on preparing for the class I'm going to teach this fall semester. I love teaching, so even though it is really stressful preparing for something I haven't done before, it is exciting as well. :-) I've wanted to be a professor ever since I wanted to be anything so I'm super excited to finally have the opportunity to teach my own class at a University.
Ugh lets not even talk about the exercise. I always seem to lose motivation there first. How do y'all stay motivated to exercise/cook well when busy or stressed? Help!
Anyways, here's my Tuesday food stuffs:
Oats, Almond Milk, Chia Seeds, Melted Peanut Butter, Maple Syrup
2 Shots espresso, Soy Milk, Vanilla, Ice!
(Addicted? I have no idea what you are talking about). Totally unrelated note, does anyone have an recommendations for at home espresso machines? ;-)
Dark Red Sweet Cherries.
Spinach, Lowfat Cheese, Onions, Boston Terrier*, Hot Sauce, Balsamic
*no Boston Terriers were harmed in the making of this salad.
And finally, roasted summer squash. I've been drowning in summer squash. I get a bag or two a week from my CSA veggie box. I'm going to try to document all of the ways I eat it because I'm sure I'm not the only one swimming in squash. Even though this preparation is very simple I really enjoyed how buttery and flavorful it made the squash. I drizzled it with balsamic, but I almost would have preferred it without to better enjoy the buttery flavor of the squash.
Roasted Summer Squash
Ingredients (
serves 2)
4 summer squashes
1tbs olive oil
1/4tsp salt
Pepper/Cayenne pepper to taste
Method
1. Preheat oven to 400F. Slice the squashes thinly and as evenly as possible.
2. Toss the medallions with oil, salt, pepper and cayenne until evenly coated. Spread in a single layer (very important!) on a cookie sheet covered with parchment paper or aluminum foil.
3. Roast for 15-20 minutes (depending on the thickness of the slices). Pay close attention towards the end of the cooking time and take them out when they start to brown on the edges. They can go from brown edges to burnt super fast. They are so very delicate!
Drizzle with nice olive oil or balsamic vinegar. Mmmmm!