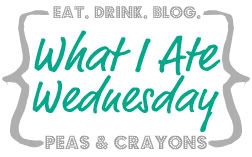 Quoted from Peas and Crayons:
"
What WIAW isn't about
Comparison - Judgement - Restriction - Guilt
What WIAW is about
Celebrating one of the glorious things we all have in common: We all eat!
"
This is why I love WIAW, and Jenn, the host. Such a fun group to participate in. :-D
I have still been pretty stressed, so my eats aren't super interesting this week, but I have been trying to come up with creative ways to use up all this squash! (Still).
First, a gratuitous Maeby pic. Because I love her. Much.
Maeby cleaned out a yogurt cup for breakfast. It got all over her face.
I had sprouted wheat bread with peanut butter and this AMAZING grind-y thing from Trader Joes. It has coffee beans, chocolate and sugar in a grinder. I'm so glad I heard about it on lots of other people's WIAWs because it blew my mind.
Strawberry Lemonade. Not homemade, but still good.
Nap time. <3
New car takes a LONG time to buy, so I just heated up leftover squash burgers and opened a bottle of Tamber Bey Rabicano to celebrate. A Rabicano is a blend of Merlot, Cab Franc and Petit Verdot. It is smooth but spicy and very, very delicious.
No recipes today because of the 3 hours spent at the car dealership, but hopefully I'll have another summer squash recipe tomorrow. Any ideas!?
PS everyone should start canning for the canning party with forgotten beast and a dash of domestic! I have never tried canning, but these lovely ladies have me convinced. :-)
EDIT: I'm trying a new comment system as I'd like to be able to reply to people directly. I can't seem to quite figure it out, but I'll be able to read and respond directly at least!